Book a day pass, enjoy a private evening to wind down, or shut the spa down all day for a relaxing reboot. Start with a 30 minute BrainTap and then dip into a 60-minute float. Shower and move from room to room with a wellness coordinator for a personalized circuit.
Compression therapy applies pressure to the legs or other parts of the body, similar to a massage. It is a great tool to enhance muscle recovery, decrease pain, and improve flexibility. With our Normatec recovery system, we can provide the relief you need quickly and easily.

NormaTec compression therapy applies pressure on the legs and other areas of the body. This releases tension, increases blood flow, and reduces pain and soreness. Created by a physician bioengineer (MD, PhD) to enhance blood flow and speed recovery, NormaTec Pulse Massage Pattern employs three key techniques to maximize your recovery:
PULSING - ENHANCES MOVEMENT OF FLUID AND METABOLITES OUT OF THE LIMBS AFTER AN INTENSE WORKOUT
GRADIENTS - KEEPS FLUIDS FROM BEING FORCED IN THE WRONG DIRECTION BY DELIVERING MAXIMUM PRESSURE IN EVERY ZONE WITH THE PULSE & PULSE PRO
DISTAL RELEASE - SEQUENTIAL PULSE TECHNOLOGY RELEASES THE HOLD PRESSURES ONCE THEY'RE NO LONGER NEEDED TO PREVENT BACKFLOW, GIVING EACH PORTION OF THE LIMB MAXIMAL REST TIME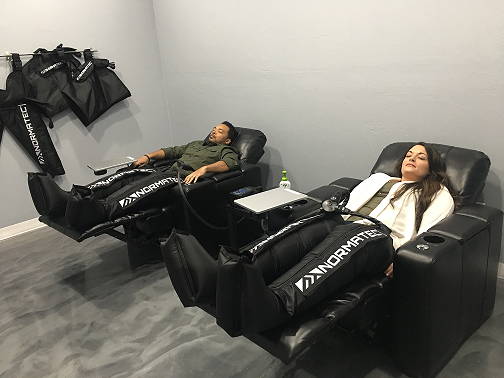 Explore online and book with our booking app.
Expertly curated spa services, wellness treatments and highly regarded body products. Unwind and recharge your mind and body with daily wellness treatments at Mindful Waters.
oh la la a must have for the weekend, swing by on Saturdays!
$60.00/each
Body Sculpting Package
Completely non invasive system that uses six 30 minute sessions spaced a minimum of ten days apart to reduce and tighten your mid-section. Clients have seen as much as 2 inches reduction in their waistline. Results vary per customer.
$600.00
Ionic Face Lift Package
Completely non-invasive system reduces wrinkles and lifts skin.
$300.00
BrainTapping Is Designed To Help You Achieve Balanced Brainwave States Needed For Optimal Function Of Body And Mind. BrainTap Features Harmonizing Tones Synchronized With Gentle Light Pulses That Travel Through The Ear And The Retina, Sending Direct Signals To The Brain And Guiding You Into Deep Relaxation. You Simply Slip On The BrainTap Headset, Start The Audio, Lower The Visor, Close Your Eyes And Relax.
BrainTap Technologies!The System System That Utilizes Binaural Beats, Guided Visualization, Holographic Music, And Isochronic Tones To Create The Perfect Symmetry Of Sound, Music, And Spoken Word For The Ultimate In Brainwave Training And Relaxation, Providing Your Mind And Body With All The Benefits Of Meditation Without The Disciplined Effort.
Get your spa day on and turn off.
Mindful Waters believes in daily wellness and self-care with moments with a variety of holistic treatments and alternative therapies. Swing by and make a day of it.